Collaboration works – never more so than in the hardest of times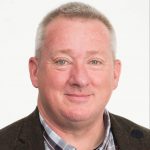 By Jon Lord
Managing the impact of a global pandemic was clearly not part of the partnership agreement when we established GMHP eight years ago. What has become clear over the last couple of months however, is that the relationships built, and the trust and spirit of togetherness that has been harnessed over years of joint initiatives, has given us the opportunity to share and collaborate right from the start of this crisis.
GMHP is a partnership of 24 housing providers with a common set of goals. The group has been involved in projects to tackle homelessness, ground-breaking joint ventures, and is a valued partner in a devolved city region. The output from this partnership has been incredibly rewarding to be part of and has demonstrated the value that working together can achieve.
At the time of writing, we are nine weeks into lockdown and like many of you, we've been working hard to ensure not only our residents are safe and supported, but also the wider community.
Everyone has been touched in some way as a result of coronavirus, however, as with many things, it is those most disadvantaged and vulnerable communities that have been hit the worst. Whether it's socially distancing in a high-rise block, insecure employment taken away, or ill health (or all of the above), it's the customers we house who are struggling the most.
The housing providers in GMHP collectively own more than quarter of a million homes in the region, and as with housing organisations across the country, our members' initial focus was on business continuity and crisis management – however, we soon got into the mode of sharing problems and solutions to ensure that our residents were protected. Here are just a few examples where collaboration in a crisis has worked for us and for our communities:
Welfare calls and support
All the members of the group have been united in providing a vital lifeline to those most at risk of the effects of coronavirus, through a programme of regular welfare calls to residents aged 70 and over, and those with known health conditions. Quickly mobilised across the region, our members' efforts have proved a vital cog in local authorities' wider programme of support. This initiative has identified countless desperate situations.
One of the 4,400 residents that One Manchester spoke to was a father of six, on a zero-hours contract and out of money and supplies. Through this contact, he was able to access vital support and supplies for his baby. Over in Salford, a call by Salix Homes even managed to reunite a daughter with her estranged elderly mother, who she had been searching for, for more than eight years.
Tackling social isolation
As well as identifying support needs, our members' wellbeing calls have provided invaluable human contact for many vulnerable and isolated residents. Referrals are being made for residents needing emotional support due to the impact of loneliness. Next of kin are being contacted about concerns we've identified, or reports of issues around social distancing.
We have compiled a directory of community help groups, including public, private and voluntary groups to signpost residents to. This directory includes support for food provision, medical supplies, money advice, loneliness support, mental health support, home care, utilities and voluntary community groups.
This directory is being used by those making outbound calls to refer residents to the correct support they require. Thousands of food parcels have been delivered to households through this scheme, many of these being Jigsaw Homes residents referred through our vulnerability phone calls.
Our well-established links between members also meant that ideas can quickly be shared. An inter-generational activity pack to celebrate VE Day, created by Johnnie Johnson Housing Association, was shared and adopted by providers across the partnership, helping residents celebrate the anniversary without breaking distancing rules.
Food and essential supplies
Our collective Greater Manchester footprint has meant we have been able to mirror and complement the food provision response from the Greater Manchester Combined Authority. Linking directly with the city region's food provision core group, our members have partnered with local authorities and a number of public, private and voluntary agencies, including local foodbanks, to get food, prescriptions and other vital supplies to the most vulnerable members of society.
A number of members have extended their support to local charities. Bolton at Home for example have donated a range of PPE supplies to two local charities who were struggling with their supplies.
Helping to rehouse rough sleepers
With homelessness already a major issue in large parts of Greater Manchester, the coronavirus crisis has only served to magnify this crisis. Many providers are already jointly involved in a number of flagship initiatives to tackle homelessness across the city region, which made it quicker and easier to mobilise new additional measures.
GMHP members have provided a number of properties to local authorities across the city region for temporary homeless accommodation and are continuing to assess voids as they come in for suitability for our innovative Housing First programme. We have also deployed staff to the Greater Manchester Homeless team to support the staffing of emergency hotel accommodation, as well as other projects including a temporary refuge for women fleeing domestic abuse and food charity Open Kitchen MCR.
Providing information and advice
Housing one in five people in Greater Manchester, GMHP members have a direct link with a significant proportion of the city region's population. We therefore know that we can play a key role in helping communicate key local, regional and national information and advice. Whether it is signposting to local support networks and helplines, advising on available hardship funds or simply reiterating national safety messages.
None of these efforts alone will resolve all the challenges created by the virus, however they each play an important part in the wider efforts of public services across our communities. What's more, through joining up across a city region it means we can share what is working in a fast-moving environment, where appropriate, collaborating our resources and crucially, fit strategically into the coordinated response in a devolved region.
There is a long, long way to go, and with lockdown measures starting to ease, many more challenges ahead. Not least, recommencing many of the services we put on hold. Having an established network of 24 providers to turn to and collaborate with however means we are well placed, even in the hardest of times.
Jon Lord is Chair of GMHP and Chief Executive of Bolton at Home.
With homelessness already a major issue in large parts of Greater Manchester, the coronavirus crisis has only served to magnify this crisis. Many providers are already jointly involved in a number of flagship initiatives to tackle homelessness across the city region, which made it quicker and easier to mobilise new additional measures.