Health begins at home
We do things differently in Greater Manchester, and the strategic, dynamic and ambitious collaboration across housing, health and local Government is at the heart of our approach, writes our Chair, Charlie Norman.
Once upon a time, Nye Bevan was the minister for health and housing, and I think it is still true today that health and housing are so fundamentally linked – people from housing and health should always be at the table together.
It's because health begins at home, and the 'right' type of good quality housing is the fundamental building block of health creation and physical and mental wellbeing that underpins people's ability to build a better quality of life.
GMHP – a partnership of 25 housing providers working together across Greater Manchester – has always recognised this link between good housing and good health, and one of our great successes has been to embed the role of housing in joined-up strategic action to improve health across the city region. But it's not always been that way.
When we launched GMHP over 10 years ago – with the aim of harnessing greater collaboration to alleviate poverty and increase the life chances and wellbeing of our residents – there was no joined up approach. If health and housing providers, and our partners in local government, weren't exactly working in splendid isolation, long-term collaboration and joined-up thinking was certainly limited.
Strategic and collaborative relationships
But that's all changed. Over the past decade we have nurtured and developed collaborative and strategic relationships with NHS Greater Manchester (NHS GM), Greater Manchester Combined Authority (GMCA), and GM's ten local authority districts, alongside other third sector and community partners. Our aim has been to deliver better health and wellbeing for all, reduce the burden on health services, and support Greater Manchester's Start Well, Live Well, Age Well agenda.
Several years ago, I joined the Greater Manchester Population Health Board. This ensured housing providers could influence how best to spend the region's £6b devolved health and social care budget to bring the greatest, fastest improvement to the health of Greater Manchester's 2.8 million people. And other GMHP representatives now sit on the Greater Manchester Integrated Care Partnership Board and the local Integrated Care Partnership arrangements across the ten boroughs.
Our efforts culminated in 2021 with the signing of the Greater Manchester Tripartite Agreement – a unique agreement between GMHP, GMCA and NHS GM that formally puts housing providers at the heart of Greater Manchester's long-term, integrated health and housing strategy.
A compelling commitment to Greater Manchester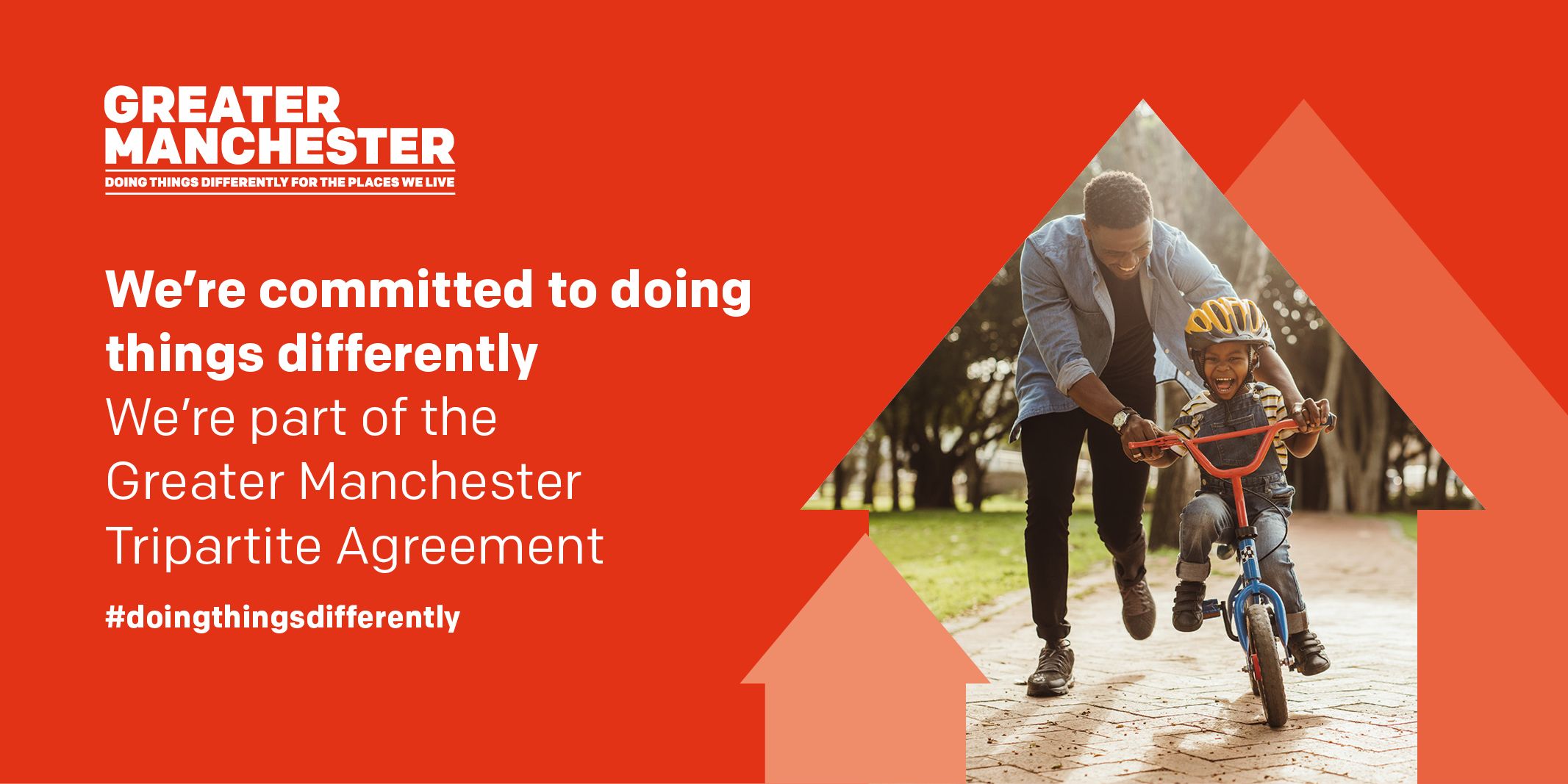 The Agreement offers a compelling commitment to the people of Greater Manchester, setting out our collective vision to work alongside local people, neighbourhoods and stakeholder organisations to create lasting solutions to complex issues and challenges centred on housing, health creation, and homelessness.
It brings together our joint ambitions and priorities through a radical agenda of public service reform, formalising how we will align our expertise, resources, influence and capacity with our partners to deliver better outcomes with local people, in a more integrated and effective way. And crucially, at its heart, the Agreement enshrines the importance of good quality housing to health creation and wellbeing.
Since the agreement was signed, we have been working ever more closely alongside our partners to translate these strategic objectives into tangible and effective outcomes on the ground.
For example, housing colleagues are now embedded within GM Mental Health Services, and we are collaborating on areas such as trauma informed training and Delayed Transfer of Care to ease the discharge process for people leaving mental health hospital settings and resettling into the community successfully.
Tackling damp and mould
Following the tragic Awaab Ishak case in Rochdale, we are working to deliver a co-ordinated response to issues around damp and mould. This includes the development of common referral forms, consistent communications with tenants, residents, patients, and driving up quality and standards through the co-development of the new GM Good Landlord Charter alongside our Mayor, Andy Burnham.
And we have been working on a joint homelessness response through ground-breaking initiatives such as A Bed Every Night and the GM Housing First pilot. These interventions, only made possible through the collaboration within GMHP, and with our Tripartite Agreement partners, have seen hundreds of rough sleepers and those at risk of homelessness find safe, sustainable, secure homes supported by the wrap-around care they need to transform their lives.
But this is just the tip of iceberg of what we're delivering together. And we've had a further step change this year with the appointment of a new Tripartite Agreement Director – a new role, co-funded by the three Tripartite Agreement signatories, that will accelerate delivery and further develop the partnerships that are crucial to success.
Changing lives – Christine's story
But what all this boils down to is the difference we can make, and the opportunities we can create to change people's lives – and I want to finish by telling you about Christine.
Christine is a resident at a specialist housing scheme in Bury designed for older people. When I met Christine, she told me that she moved there after an injury to her neck stopped her working and she struggled to walk. Having had few neighbours nearby and not being able to get out led to her suffering with depression.
After moving to the scheme Christine was so much happier to have neighbours around her and a home that was much better suited to her needs. Christine told me: "It's absolutely fantastic what this apartment has done for me – you can't put a price on your health. It has more than brought me out of my depression." Christine is now much less reliant on health care and feels so much happier. It's been wonderful to see.
Improving people's housing and access to life opportunities not only saves money to the public purse in the long term, but boosts the wellbeing, health and happiness of people like Christine across Greater Manchester, and up and down the UK – isn't that what we are all about?
Improving people's housing and access to life opportunities not only saves money to the public purse in the long term, but boosts the wellbeing, health and happiness of people across Greater Manchester - isn't that what we are all about?