Supporting care leavers to successfully move to independent living
Every year in Greater Manchester, over 1000 young people – some just 16 years old – leave care. They often do so without access to a stable home, basic skills to manage their lives, or affordable means of getting online to continue with education, apply for jobs, or keep in touch with friends or family. They also often lack the guidance and emotional support to help them make the best decisions or develop confidence and self-belief.   
That's why GMHP has co-developed a joint Care Leavers Pledge, supported and endorsed by the Mayor of Greater Manchester, Andy Burnham, that commits our members to provide consistent and far-reaching support for young people leaving care. Our vision is that every young person leaving care should have a great future, and through our pledge we want to ensure care leavers in our communities are in the best position to move forward positively in their lives. 
The pledge commits each housing provider to offer quality, stable homes to care leavers, alongside employment and skills opportunities, mentoring, and wider support in the transition from care to living independently. Support care leavers receive includes advice on money management, repairs rights advice, and life skills. We have ambitions to offer all care leavers a guaranteed interview for jobs they apply for with GMHP members.  
Each organisation in our partnership will also identify a champion to advocate for improved services for care leavers within each GMHP member and among its suppliers and partners.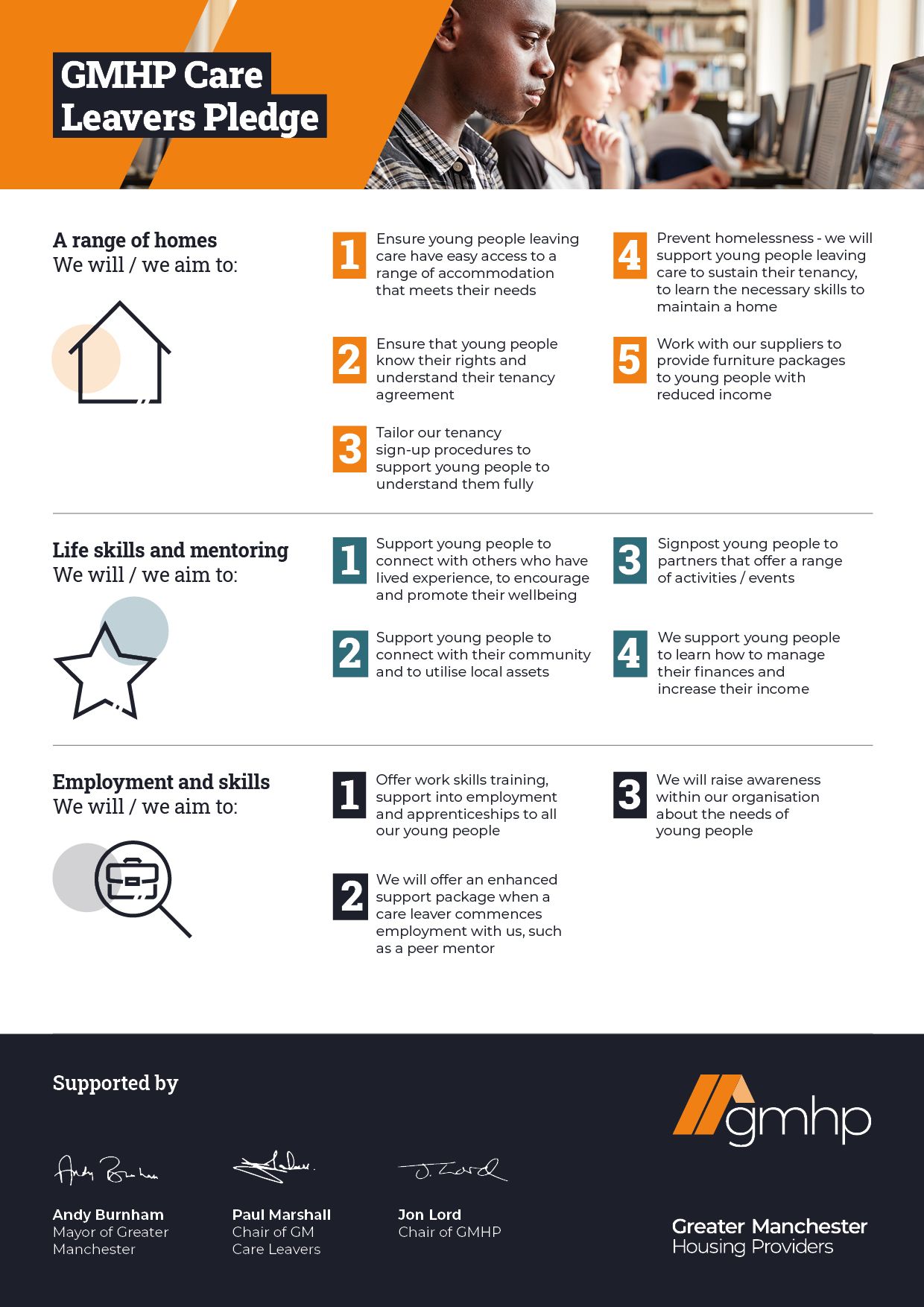 1000
young people leave care in GM annually
1-in-5
homeless people in the UK have been in care
50%
of care leavers nationally aren't in work or training
12
commitments in our Care Leavers Pledge
We know life as a care leaver can be hard. Without the safety nets so many of us take for granted, such as parental support, everyday living can be a struggle when faced with barriers most people never encounter. In co-signing this commitment alongside GMHP and others, we are restating our support for Greater Manchester's care leavers.