Increasing access to private rented sector housing for the people who need it most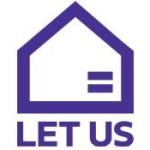 Let Us, the Greater Manchester Ethical Lettings Agency is a partnership of GMHP members working together to increase choice and access to high-quality, affordable private rented sector homes for the people who need it most across the city region.
Privately owned properties leased or managed by Let Us members are made available to households who are homeless or at risk of homelessness, increasing choice and opportunity for tenants, and contributing to our wider efforts to tackle the housing crisis. Let Us removes financial barriers to private sector housing to improve accessibility for those who desperately need an affordable place to call home.
The project offers a range of flexible, tailored services to private sector landlords and property investors. Options range from advice and support to make property improvements, through to a full property management and leasing option, through which Let Us manage the property and tenants, and pay the property owner a guaranteed rent with no void loss if the property is ever unoccupied.
Let Us operates on the basis that private rental properties should provide stable homes for all tenants, as well as being a secure investment for their owners, ensuring private landlords can strike the right balance in delivering a service that benefits society and makes a return on their investment.
151
homeless or at-risk households rehoused
7 in 10
GM Local Authorities in which Let Us operates
This is a new start. We have all the tools to begin again. Schools are close, the children are happy - we have everything available to make this successful. My mental health has improved already. We are back living in an area where I feel safe, back to where I have doctors, school, friends, family. It's like I have woken up!